Scanning Barcodes with VisualGA
Currently, there are two uses for scanning barcodes with VisualGA
1) Scanning Disbursing Orders/Vendor Payments for reconciliation purposes. This can be set up by going into the Admin Console and checking "Barcode Disbursements".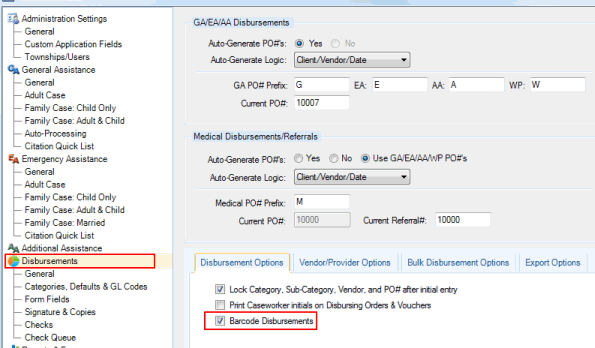 2) Creating Client ID Cards for Additional Assistance for use in the Additional Assistance Quick Grant feature.
In order to provide the most economical solution for scanning barcodes with VisualGA, the recommended scan gun is the USB Scan Laser Barcode Scanner. Note that inventory is subject to change. If the scan gun is no longer available for purchase, feel free to contact us so that we can recommend an alternative - all that is needed is a barcode scanner that can decode the Code128 symbology.
If you have the scan gun model LS-4209-SR2012 particular model, you can download a document sheet we have prepared to quickly turn on/off the scan beep when the barcode is scanned and to turn on/off the automatic scan (for use when the scan gun is mounted in the cradle). Note that this document sheet will only work for the model listed above. However, the scan gun you purchase should have a programming booklet that will allow you to accomplish the same.
For Additional Assistance Quick Grants, you can download our barcode shortcuts document which has a barcode that when scanned, will issue the client grant. This way, all you need to do to Issue an Additional Assistance Quick Grant is to scan the Client ID and then scan the "Issue Grant" barcode. The "Issue Grant" barcode will work on any barcode scanner that supports the Code 128 symbology, which is a common symbology.
We are not responsible for support of the barcode scanner. You will need to contact your IT consultant for support. However, we have designed the components in VisualGA that use barcodes in such a fashion that requires little knowledge of setting up a barcode scanner.