Client ID Cards
VisualGA has the ability to print Client ID cards, which consists of a standard (2.3" x 3.8") plastic ID card, and a thermal label affixed over the top of the card. The top two lines can be defined in the Administration Console and what follows is the client information and a barcode, which contains the Client ID (a unique value assigned to every SSN of a primary applicant in VisualGA) or the Case # if printing a card from an Additional Assistance Case that has no Social Security Number.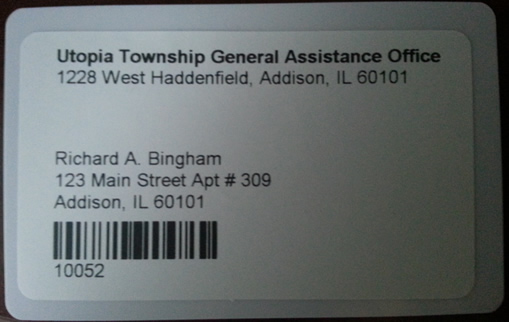 The Supplies you will need to print cards from VisualGA are as follows:
1) DYMO LabelWriter 450, which can be ordered here.
2) DYMO 30326 VHS Top Labels, which can be ordered here.
3) Standard plastic ID Cards, which can be ordered here.
4) Barcode Scanner, which can be ordered here.
To enable caseworkers to print Client ID Cards, open the Administration Console and on the first screen, select "Client ID Cards are generated with VisualGA". Optionally, enter what you would like to display on the first two lines of the card.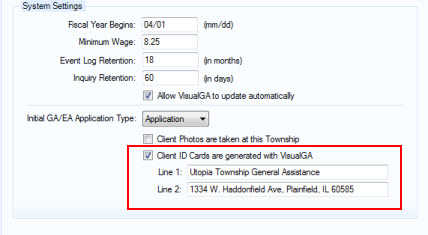 To get started with the installation and setup of your Client ID card printer, please click here.